Voted Charlotte Magazine's 2016, 2017, 2018 & 2019 Best Charlotte Wine Event,  The South End Wine Festival returns on October 19, 2019.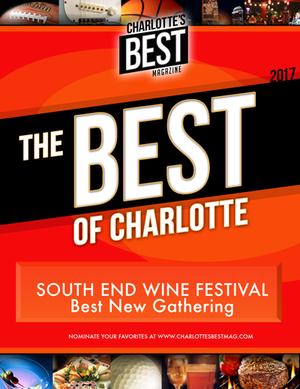 Wine. Live Music. Food. Fun.
Join us on Saturday, Oct 19, 2019 for our neighborhood wine festival. Enjoy at least 4 hours of wine, beer and cider tastings, live music and food trucks. Proceeds benefit Classroom Central and their mission to equip students living in poverty to effectively learn. The event will be from 2:00 - 6:00 PM at 308 W. Carson Blvd. 
You'll need something delicious to go with that beer. We've got you covered.
We've got the best of Charlotte's live music to keep you moving.
New Local
Hailing from Charlotte, NC, NEW LOCAL brings together 5 talented musicians with a wealth of experience giving audiences an unforgettable live performance.
NEW LOCAL fully immerses audiences into a full-spectrum audio and visual experience with a song list comprised of some of the most fun and energetic songs ever to hit the air waves.  From start to finish, listeners are entertained and left wanting more as the party vibe transcends the stage and makes its way to the dance floor. You'll hear current radio hits,  one-hit wonders, 70's, 80's, 90's and everything in-between.
Find out everything you need to know to attend The South End Hops Fest.
October 19, 2019
2:00pm – 6:00pm
308 W. Carson
Charlotte, NC 28204
VIP
1:00pm – 6:00pm
VIP tables mean that You plus 9 of your friends split a $600 VIP experience which includes 10 festival tickets, VIP table & chairs, 4 bottles of wine plus unlimited tastings & a 1 hour early entrance into fest.  That's just $60 per person.
Early Admisson
1:00pm – 6:00pm
Early Admission tickets are $50.00 and include 5 hours of wine tastings and a festival souvenir sampling glass.

Kimpton Hotel Room  & Early Admisson Tickets
1:00pm – 6:00pm
The stunning and hip Kimpton Tryon is the official hotel of the South End Wine Festival and they offer a daily social hour day featuring wine so it's makes perfect sense to stay here during the festival. Two festival tickets are included when you book a room with our special rate code. Plus, Executive Chef Rob of Angeline's located at Tryon Park is hosting the Wine Fest eve dinner is hosting a six course dinner paired with wonderful wines. Tickets for the dinner are also located at SouthEndWineFest.org. Stay in the middle of all the festivities – stay at Tryon Park.
General Admisson
2:00pm – 6:00pm
General Admission tickets are $40.00 and include 4 hours of wine tastings and a festival souvenir sampling glass.
Designated Driver
1:00pm – 6:00pm
Designated Driver tickets are $20.00 and include a souvenir logo'd sports bottle & free water filling stations will be available.
*All tickets are subject to the 7.25% State Tax and a processing fee.
**Avoid all ticket fees by purchasing your tickets pre festival in person at the Carolina Tix box office located in the lobby of the Belk Theater, 130 N. Tryon.
Mission
Classroom Central equips students living in poverty to effectively learn by collecting and distributing free school supplies.
Impact
Classroom Central supports over 100,000 students in poverty in over 200 schools in 6 school districts: Charlotte Mecklenburg, Gaston, Iredell/Statesville, Union, the City of Kannapolis, and Lancaster, SC).